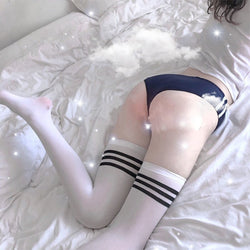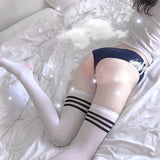 These classic school girl inspired tall thigh high stockings are the perfect addition to any traditional school girl, mori girl, and preppy look! 
Available in black and white with 3 traditional contrasting stripes across the top.
Made of comfortable breathable fabric, you'll love wearing these just as much as everyone will love seeing you in them! 

One size fits most cuties size XS to Large best, however there's enough stretch to accommodate larger sizes if you don't mind them being tight or sitting a little lower.