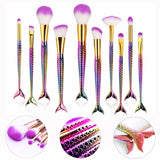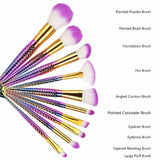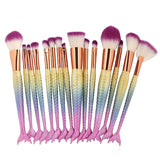 Rainbow Mermaid Makeup Brush Set
These quality unicorn inspired mermaid fin make-up brushes will have you feeling truly extravagant! 💖 
Durable yet plush bristles make applying make-up a breeze, and a pleasure!
Gorgeous metallic rainbow color palettes are eye catching and radiant, and there's 3 aesthetic to choose from!
Long lasting quality, with delightful make-up application!
Choose from a holographic rainbow, pastel rainbow, or golden rainbow!