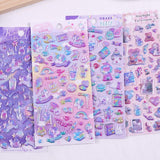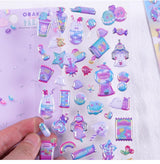 Purple Palace Sticker Sheets
These glittering and shimmering, bedazzled & bejeweled, 3d puffy magic kingdom stickers are the perfect decoration for your phone cases, storage boxes, or heck, put em all over your body!
Made of quality plastic, precisely laser cut, with the sweetest little details, what's not to love about these sweet little kitten stickers? 
A random pack will be sent, they're all very similar and equally adorable!