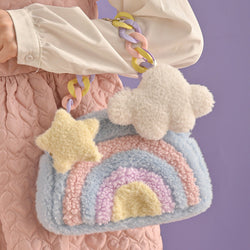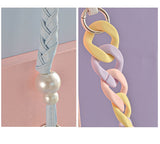 Pastel Rainbow Cloud Purse
 Add a touch of fairy-kei cuteness to your wardrobe with our Pastel Rainbow Cloud Purse! This adorable plush purse is perfect for anyone who loves pastel colors, rainbows, and all things soft and kawaii.
Here are some reasons why you'll love our Pastel Rainbow Cloud Purse:
The soft and fuzzy material will make you want to snuggle with it
The spacious interior can hold all of your essentials 
The cute and playful cloud and star plush keychain attachments will make you smile every time you use them
The option to choose between a chunky rainbow oversized chain strap or a dainty pearl strap to match your aesthetic style
The vegan material that is eco-friendly and cruelty-free
Don't settle for a boring purse when you can have a pastel rainbow cloud purse! Order yours today and add some extra cuteness to your outfits. Get ready for all the compliments and smiles that come your way!