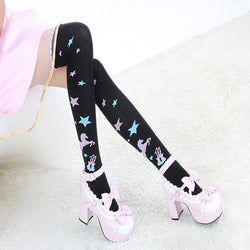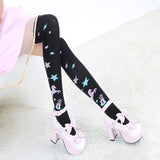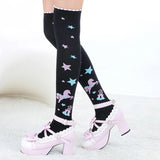 These awesome enchanted magical kingdom inspired  thigh high socks are sure to impress!
Inspired by traditional pastel goth and lolita fashion, there's milky pastel motifs from a storybook fairytale against a dark black background!
Unicorns, castles, stars, oh my!
Made of quality cotton material, with a gorgeous embroidery threaded pattern all over!
Sits securely above the knee so there's no need for a garter belt. 
One size fits most female feet, with lots of stretch!