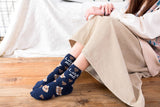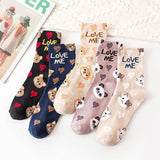 These adorable and kawaii baby animal socks are a fun way to show off your love for all things cute and smol and precious!
With the words "LOVE ME" on the anlke, and sweet doodle hearts all over and your favorite little baby animals like cats, pandas, bears, and dogs, you'll want to live in this soft little sockies! 
Made of comfortable and high quality material, they're cozy and sweet sockies!
Stretchy mid-ankle style, fits roughly any female size feet up to size 8 best. (US)
A must have for every kawaii babe!