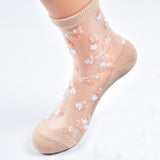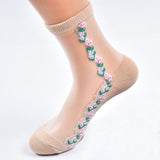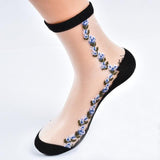 These sweet transparent nylon style floral socks are the perfect addition to any regular pair of shoes to add the right amount of flare and cuteness to your outfit!
With adorable see-through nylon material paired beautifully with gorgeous embroidered florals, these will quickly become your new favorite.
Sweet girly and dainty socks are an absolute must in any kawaii wardrobe.
Sure to score you compliments for your creativity and kawaiiness!
Made of comfortable material, that's breathable, and snag/hole resistant.
Available in many colors and styles! 
One size fits most female feet!