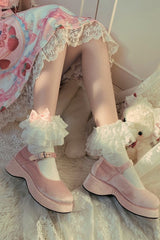 These sweet socks have ruffles upon ruffles upon ruffles for the ultimate ethereal fairycore aesthetic! Vintage french royalty. A perfect fit for a soft pastel princess! 
With adorable satin pastel pink ribbons on the side, these cute socks will surely become a staple in your kawaii wardrobe! 
Slip these adorable sockies on whenever you need a princess pick-me-up, baby!  
One size fits most female feet up to size 10.