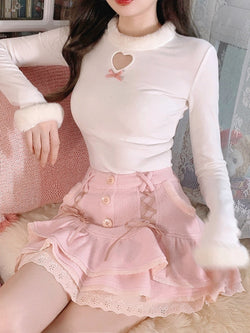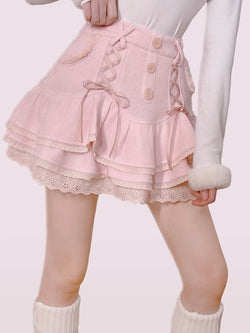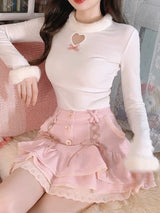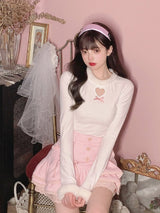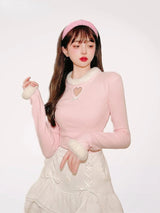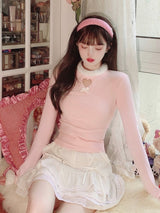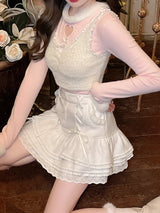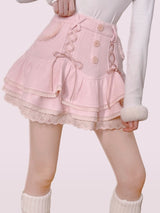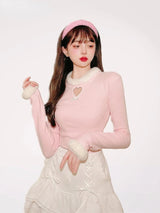 Dollette Skirt & Turtleneck Outfit
Create the perfectly orchestrated angelic masterpiece, piece by piece! Mix & match, or grab them all for the perfect fairycore inspired ensemble.
A beautiful light pink corduroy skirt with lace corsetry, buttons, and a layered cake skirt design with beautiful doily lace trim. 
Comlete it with a beautiful long sleeve turtleneck with a heart peephole and fur trim in white or pink, or grab a bralette top in white or pink!
All the angel vibes, baby! Soft pink and perfect.
Skirt Size Guide
Size S - 

Waist 60

cm

 

Hips

 84

cm

 Skirt length 38

cm

Size M - 

Waist 63

cm

 

H

ip

s

 88

cm

 Skirt length 38

cm

Size L - 

Waist 66

cm

 

H

ip

s

 92

cm

 Skirt length 40

cm

Size X

L

 - 

Waist 69

cm

 

H

ip

s

 96

cm

 Skirt length 40

cm
Crop Top Size Guide

S Bust 74cm Shoulder 33cm Length 34cm Waist 60CM

M Bust 78cm Shoulder 34cm Length 35cm Waist 64CM

L Bust 82cm Shoulder 35cm Length 36cm Waist 68CM

L Bust 86cm Shoulder 35cm Length 37cm Waist 72CM
S Bust 80cm Shoulder 33cm Length 50cm Waist 60CM 

Sleeve 60cm

M Bust 84cm Shoulder 34cm Length 50cm Waist 64CM 

Sleeve 60cm

L Bust 88cm Shoulder 35cm Length 50cm Waist 68CM 

Sleeve 60cm

L Bust 92cm Shoulder 36cm Length 50cm Waist 72CM 

Sleeve 60cm