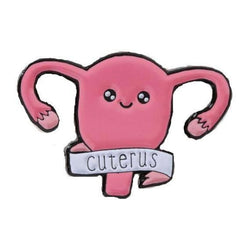 This feminist empowerment uterus cuterus enamel pin is kawaii and cutesy, while being strong and proud - like every beautiful lady out there!

Empowering women to know that it's entirely okay to be cute, innocent, kawaii, AND a feminist! 

You can proudly speak about  feminism while participating in traditional gender "roles" simultaneously! You are STILL valid. You are STILL a feminist! 

Do you you, babe! Sport this kawaii uterus brooch and unleash your empowerment! 

Girl power! 
---
💖100% FREE Shipping Worldwide on EVERY Order! 💖
---