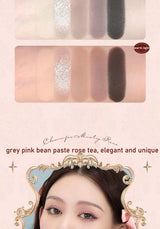 Berry Angelic Eyeshadow Palette
These glittering strawberry embellished angelic eyeshadow compact palettes are high-end luxury.

You'll want to display these aesthetic eye shadow palettes proudly on your vanity! 
They're just as much of a decor item as they are a beautiful long-lasting vibrant and shimmering make-up palette with high quality pigmented shades & buttery textures. 
Up your make-up game and collect them all. 
5 stuninng compacts to choose from with neutrals, warms, cools, and pastels and a range of shimmers and mattes. 
Pair this stunning make-up palette with our matching crystal unicorn jelly lipstick.