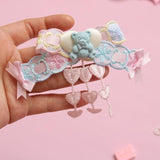 These stunning candy colored pastel fairy-kei inspired choker necklaces are a must have for any dainty princess with a love for all things cute & smol.

Sweet knit and hand embroidered details. 
Adjustable chain lobster claw clasp.
Silky soft pink ribbons & bows.
Gel star cabochons.
Inspired by fairy-kei color palettes and classic kawaii fashion! 
Featuring only the softest and most kawaii baby-like embellishments! 
Choose from several options, or collect the entire set!