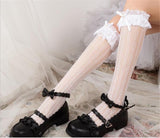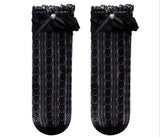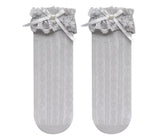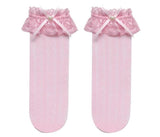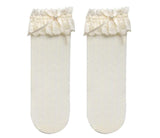 Babydoll Lolita Stockings
These stunning lace knee-high stockings feature elegant ruffles on the top with a pearl embellished silk ribbon for ultimate dainty lolita vibes.
Embrace the girliest part of your kawaii self with these very stretchy versatile socks made of heart embroidered lace fabric! 
Wear them down at your ankles, or stretch the to go up below your knee! A sock for any occasion, baby! 
Choose from 5 traditional lolita colors: Black, Grey, Pink, Cream, or White! 
Or, collect all 5 and save $20!