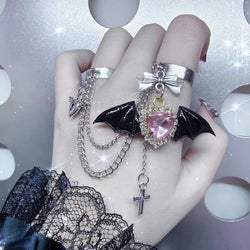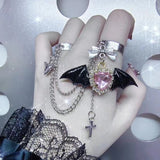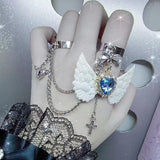 Introducing our Angelic Goth Ring Set - the perfect accessory for those who love to mix and match their gothic and pastel styles!

This set includes multiple rings with chains attached, featuring cute glossy bat wings, crystal embellishments, and silver hardware.

These rings are the perfect mix of creepy and cute, and are sure to make a statement.

Wear them all together for a bold look, or mix and match with your other favorite rings for a more subtle touch.

Perfect for adding a unique and edgy twist to your outfit, this Angelic Goth Ring Set is a must-have for any goth or pastel goth fashion lover.