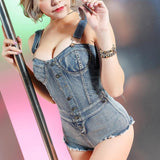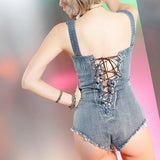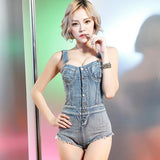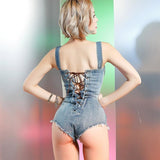 This adorable jean suspender strap adult romper is perfect for being sexy, sultry, and even a little bit exotic! 
With quality over the shoulder straps, this denim overall inspired bodysuit is versatile for so many different outfits and styles!
With a quality jean material, this coverall romper is both comfortable, cozy, and cute!
Wear it alone as a one piece bodysuit, or pair it with a cute pair of socks, skirt, or gloves and your denim shirt will never go untucked!  You could even wear it as a one piece bathing suit at the beach! The possibilities for this jumper are endless. 
Available in medium or large, with a relatively snug fit! We recommend ordering a size or two up from your usual size!