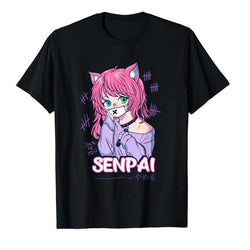 This adorable pastel goth inspired Senpai shirt is a great way to show off your love for dear senpai while embracing your otaku side! 
Made of comfortable material, in a traditional T-shirt style cut! 
Featuring a menhera inspired anime neko girl wearing a collar, face mask, and cat ears - so kawaii! 
Available in sizes up to 3XL. Measure first and size up accordingly.
| Size | Chest Width | Length |
| --- | --- | --- |
| S | 94cm | 67cm |
| M | 100cm | 70cm |
| L | 106cm | 73cm |
| XL | 112cm | 75cm |
| XXL | 118cm | 77cm |
| XXXL | 124cm | 80cm |