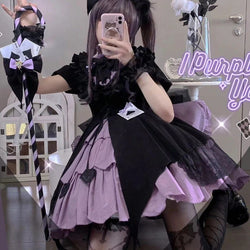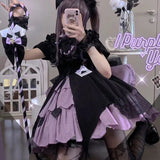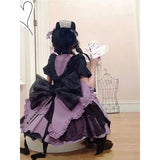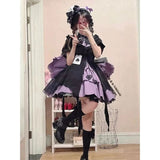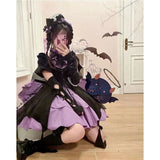 Purple Spade Lolita Dress
 Get ready to enchant the night with our Purple Spade Lolita Dress!
Dive into the dark and spooky world with this high-quality black and purple masterpiece.
Designed for the ultimate Halloween inspiration, this dress exudes a hauntingly beautiful vibe.
Transform into a pastel goth princess with its unique aesthetic that blends elegance with the eerie.
Adorned with layers upon layers of ruffles, it's a ruffle-lover's dream come true!
Perfectly pairs with a petticoat to achieve that dreamy, voluminous look.
Feel good about your fashion choices - this dress is made from vegan materials.
Unleash your alternative side and stand out in the crowd with this stunning lolita dress.
Joker card eloquently placed on. the mid section. 
Embrace your inner goth and be the center of attention at any event.
The Purple Spade Lolita Dress is your ticket to dark, enchanting fashion. Don't miss out!
| size(cm) | Shoulder | Bust | Waist | Length | Sleeve |
| --- | --- | --- | --- | --- | --- |
| XS | 31 | 83 | 66 | 82 | 22.5 |
| S | 32 | 87 | 70 | 83 | 23 |
| M | 33 | 91 | 74 | 84 | 23.5 |
| L | 34 | 95 | 78 | 85 | 24 |
| XL | 35 | 99 | 82 | 86 | 24.5 |
| XXL | 36 | 103 | 86 | 87 | 25 |