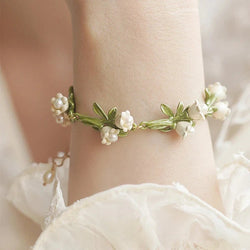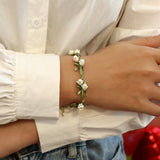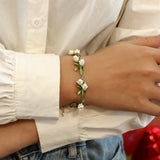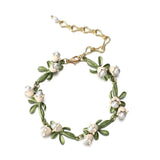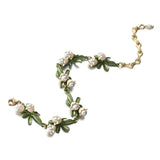 Lily Of The Valley Bracelet
 Introducing our enchanting Lily Of The Valley Pearl Bracelet, a whimsical accessory that brings the magic of fairycore and cottagecore to your jewelry collection. Here's why you'll fall in love with it:
Elegant and dainty: Adorned with delicate pearls and intricate gold-plated detailing, this bracelet exudes elegance and grace, adding a touch of sophistication to any outfit.
Fairycore fantasy: Inspired by the mystical allure of fairy tales, the bracelet features charming green leaves and radiant white florals that transport you to a dreamy woodland realm.
Adjustable for a perfect fit: The gold-plated chain allows you to customize the bracelet's length, ensuring it comfortably hugs your wrist and accentuates your unique style.
Embrace cottagecore vibes: Embrace the rustic charm of cottagecore with this accessory, which beautifully captures the essence of a quaint countryside cottage garden.
A versatile treasure: Whether you're attending a garden party, a wedding, or simply want to add a whimsical touch to your everyday look, this bracelet is the perfect finishing touch.
Indulge in the fairy tale magic of the Lily Of The Valley Pearl Bracelet and let your style bloom with elegance and charm.