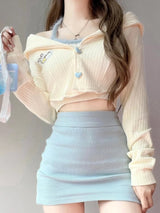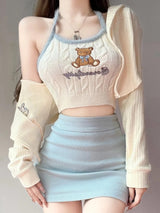 Welcome to the world of angelcore fashion with our latest addition, the Knit Teddy Crop Top! This adorable piece is perfect for anyone who wants to embrace their cute and playful side while staying comfy and cozy. Here are some reasons why you should consider adding it to your wardrobe:
Soft and snuggly: Made from high-quality knit material, this crop top is ultra-soft and comfy to wear all day long.
Teddy bear emblem: The cute teddy bear embroidered on the chest adds a touch of whimsy to your outfit and is perfect for those who love all things cute and cuddly.
Versatile styling: You can pair this crop top with the matching blue skirt for a full angelcore look, or wear it on its own with your favorite high-waisted pants or jeans.
Cozy cardigan: The beige cardigan adds an extra layer of warmth and comfort, making it perfect for chilly days or cozy nights in.
Complete the set: You can purchase the top alone, or get the cardigan and skirt too in order to complete your angelcore look.
So if you're looking for a soft and cozy knit top with a playful twist, look no further than the Knit Teddy Crop Top!
Skirt
S  Length 35cm          Waist 60CM 
M  Length 36cm         Waist 64M 
L  Length 37cm          Waist 68CM 
XL  Length 38cm        Waist 72CM 

Cardigan
S Bust 76cm              Shoulder 34cm          Length 34cm          Sleeve 59cm
M Bust 80cm             Shoulder 35cm          Length 35cm           Sleeve 60cm
L Bust 84cm              Shoulder 36cm          Length 36cm           Sleeve 61cm
XL Bust 88cm            Shoulder 37cm          Length 37cm           Sleeve 62cm

Tank
S  Length 24cm         Bust 66CM 
M  Length 25cm         Bust 70CM  
L  Length 26cm          Bust 74CM  
XL  Length 27cm        Bust 78CM