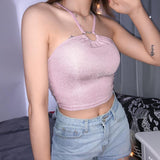 This shimmering and glittering strappy pink/purple halter top is a must have for any glamourous babe!
Featuring a rhinestone embellished silver heart on the chest with spaghetti strap halter style straps, and a sweet cropped belly cut! 
So perfectly pink and glittery.
Sizes small through large. Fits small so measure and size up when in doubt.