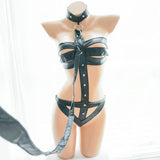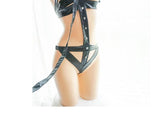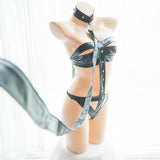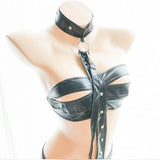 This sassy latex / vegan leather strappy and seductive bodysuit is a must have in any gothic kawaii lingerie closet!
Made of gorgeous cruelty free material that's comfortable to wear, with slits and holes in all the right peekaboo places!
Has a built in vegan leather leash and collar!
Embody your inner dom or sub with this sexy one piece bodysuit! 
Sexy and edgy stud detailing along the strip in the middle! 
One size fits most vixens size XS to medium best!