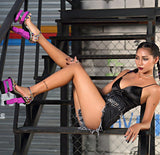 Geometric Platform Sandals
These luxury three dimensional geometric and vogue inspired jewel embellished platform sandals have utilized only the highest quality of materials for the ultimate kawaii lolita and high fashion experience! 
These gorgeous heeled shoes are made of quality vegan leather as a base!
Covered in a gorgeous rhinestone embellished straps around the ankles and toes.
Irregular shaped stacked block heel utilizes geomry and straight lines to give this one of a kind heel depth and artistic appeal. 
Shiny metallic gold contrasted by a matte violet purple makes for the perfectly complimentary color palette. 
Sizes given are in traditional US ladies sizes:
---