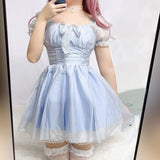 Introducing our enchanting "Pale Blue Princess Dress," a delightful babydoll dress that will make you feel like a whimsical princess straight out of a fairytale! Here's why this dress deserves a special place in your wardrobe:
Iinspired by Cinderella, this dress captures the essence of angelic beauty and brings a touch of magic to your everyday style.
The soft, pale blue hue is reminiscent of a clear summer sky, exuding a dreamy charm that will turn heads wherever you go.
Crafted with utmost care, this dress combines the elegance of angelcore and the ethereal vibes of fairycore, creating a perfect blend of enchantment and grace.
The flowing silhouette and delicate ruffles make you feel like you're floating on a cloud, adding an extra touch of princess-like allure.
Whether you're attending a garden party, a whimsical tea party, or simply want to embrace your inner princess, this dress is a must-have for every fairytale enthusiast.
Get ready to feel like the belle of the ball with our Pale Blue Princess Dress – the ultimate choice for those who believe in magic and happily ever afters!
| Size | Bust | Waist | Length | Sleeve Length |
| --- | --- | --- | --- | --- |
| S | 78cm | 66cm | 63cm | 24cm |
| M | 82cm | 70cm | 65cm | 24.5cm |
| L | 86cm | 74cm | 67cm | 25cm |